Stay on Top of Enterprise Technology Trends
Get updates impacting your industry from our GigaOm Research Community
Hulu Plus has "materially exceeded" expectations, passing 1.5 million paying subscribers and heading closer to the point where the premium video service plus its younger sibling in Japan will help account for half of Hulu's revenues.
Hulu says the premium service is attracting more than twice as many subs every day as it did this time last year when it was still new. One way it plans to keep that number growing: in addition to partner content, Hulu CEO Jason Kilar says the company is committed to spending "approximately" a half-billion on content this year. Based on 1.5 million, that's about $333 a subscriber. (He also continues to claim that Hulu pays content providers 50 percent more than its "similarly priced" competitors — i.e. Netflix.)
One way to put that into context: Hulu reports roughly $420 million in overall revenues for 2011, not quite the $500 million Kilar projected earlier this year. Another: the annualized revenue for 1.5 million subs at $7.99 a month is just under $144 million, less than a third of the amount being pledged for content. A little more context: even after subscribers left in droves following the Qwikster-price hike combo at Netflix (NSDQ: NFLX), the veteran streaming service still has more than 21 million streaming subscribers in the U.S., about 14 times as many as Hulu Plus.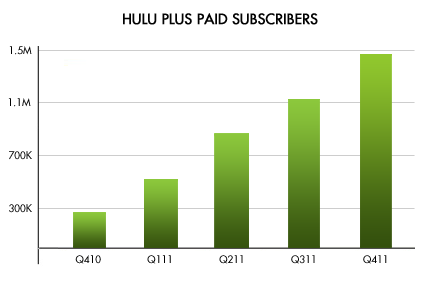 Hulu missed another half-billion milestone in 2011. That was the amount of revenue Kilar projected and reaffirmed during the year in similar posts. But he also left room for not quite hitting it, writing in July that Hulu was still on pact "to approach" $500 million in revenue.
Now that DVDs and streaming have been separated at Netflix, programming is the greatest distinction between Hulu Plus and its chief competitor. Netflix is known most for movies and back seasons of certain TV shows; it's getting into original programming now. Hulu Plus is the place for current season access and this season, one of the only ways Fox (NSDQ: NWS) shows can be streamed within eight days of airing.
The numbers are included in Kilar's latest blog post providing some of the details and color we might see if the joint venture of Disney (NYSE: DIS), News Corp. and NBC (NSDQ: CMCSA) Universal was a public company, rather than a private venture majority owned by public companies. It's not nearly as complete but it does offer a glimpse into the way Kilar and the Hulu board gauge success or at least how they want it viewed in public.
It doesn't carry the same weight as public company numbers, either. Imagine if Bob Iger told shareholders and analysts Disney would approach a certain number in revenue, then ended the year 16 percent short.
Kilar didn't break out the numbers for Japan, where Hulu launched as a subscription service last September.