Mark Zuckerberg must have something big up his sleeve for Thursday's f8. Facebook on Tuesday night unveiled the third – and biggest – update to the social network in 10 days, with a real-time "ticker" that you might have read about in the Guardian on Monday.
The live ticker shows what your friends are talking about right now. From Thursday, this is where you'll be able to see what your friends are listening to, reading or watching this moment.
It's an unobtrusive little box in the top-right corner, meaning News Feed displays only the "Top Stories" from the last day – turning Facebook into "your own personal newspaper", says Facebook engineer Mark Tokelowitz.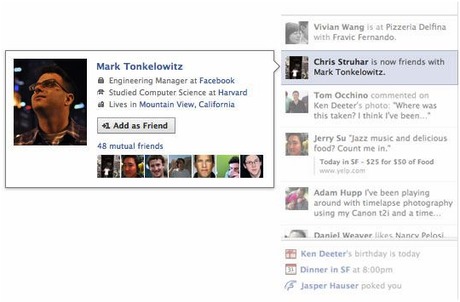 The idea is that Facebook addicts (sorry, users) will be able to easily catch-up on what their friends have been doing over the past 24 hours without having to scroll through endless updates. And it ostensibly nudges Facebook away from the irresistible theory that it wants people to stay on the site for as long as possible.
Here's Tokelowitz again:
"When you visit Facebook, you should see the things you're most interested in, like status updates from your family and closest friends. Last week, we announced improvements to Friend Lists and a new Subscribe button to help you see more of what you care about, and less of what you don't.

But it's not just the people you hear from that make your News Feed interesting. It also matters how much you visit Facebook. If you haven't returned in a week, you may want to see a summary of top stories first. If you've already visited several times that day, you probably care more about recent news. Starting today, it will be easier to keep up with the people in your life no matter how frequently or infrequently you're on Facebook."
Good news: if you hate the changes, switch your settings to English (UK) and – for a few hours at least – you'll have the old News Feed.
But what do you think about the changes? Is this the moment where you lost control – or the feeling of being in control – of what your friends are sharing (like Twitter)?
Roughly half of Facebook's 750 million active users visit the website at least once a day, according to figures it has touted around recently. How useful will a "personal newspaper" be to the 375 million people that are tuning in relatively frequently?
"Lame," snarks Brandi Genest Weeks on the Facebook blog. "Quite frankly I don't want Facebook deciding who is most important in my life. I want my news feed to just go chronologically and if I want to hide posts from someone, I will. Stop changing. You're becoming MySpace and I left there for a reason."
Ouch. And 845 people "Liked" Brandi's comment. Almost 500 disgrunted Facebook users concurred with Fiona Robinson, who blasted: "NOOOO! I STILL want "most recent" at the top like it used to be, so we have the OPTION of seeing what has been posted most recently instead of what Facebook deems a "top story". This is total garbage.
"It's been two weeks since I got this "new feed" and I'm closer and closer to ditching to G+ where they ACTUALLY listen to user feedback! I've complained everywhere possible and haven't gotten a single helpful response. Geez, guys. Usability should be a main concern, and you're kind of sucking at it."
My static News Feed looks pretty tired right now – the top story is a comment on my wall from nine hours ago – while the most recent "ticker" update is a pretty banal one from a friend who inexplicably just "Liked" his own photo.
Once the ticker is populated with my friends' Spotify tunes, Vevo videos or Wall Street Journal (NSDQ: NWS) stories, then I'm interested. How about you?
This article originally appeared in MediaGuardian.