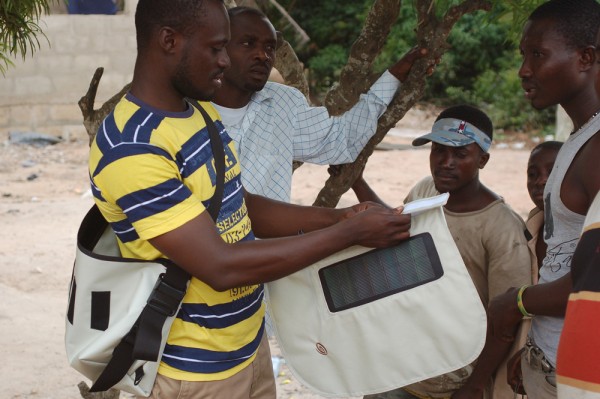 My obsession with portable solar energy continues — in the past I've written about Suntrica's portable chargers, Reware's Juice Bags and Noon Solar's range of bags. Suntrica's chargers, though difficult to purchase outside Finland, currently offer the most elegant and practical solution for cheap, mobile and clean solar energy.
Interestingly, a unique field test of mobile solar power is taking place in a handful of African nations, where electrical power is often unreliable: AfriGadget's Flexible Light And Power (FLAP) initiative.
FLAP is a collaboration between San Francisco's iconic messenger bag company, Timbuk2, the Pop!Tech conference, and Portable Light. Timbuk2 has modified one of its standard messenger bags with a removable flap that contains a photovoltaic solar panel connected to an LED light and a USB power outlet, which can be used for charging portable electronics such as phones and MP3 players.
AfriGadget's founder, Erik Hersman, has been traveling through communities in Ghana, Kenya and Uganda, assessing the usability, usefulness and adaptability of FLAP for everyday use. So far it seems the solar-charged light is the key feature, with the bag's built-in USB charging being less crucial. However, given the crucial cultural role that mobile communication is playing in countries such as Kenya and Uganda, I'd be surprised if this feature doesn't become more popular.
Interestingly, Timbuk2 plan to offer the solar flap as part of their own range of accessories — bringing technology tested and evaluated in the developing world to its geek-dense customer base in the developed world.
With the popularity and utility of Timbuk2 bags among web workers, combined with the emerging interest in solar power, this seems like a great collaboration. I hope some benefit will accrue to those developing nations' communities, and not simply to more affluent buyers elsewhere.
Would you buy a bag with a solar charger or solar accessories?