There are many online project management offerings on the web including Projjex (previously covered), Basecamp, and Zoho Project.
A relatively new entrant to the market is 5pm, a product is built by a very small team. Even without venture funding, the 5pm team has built a visually attractive project management utility, but how does it stack up to the competition?
Signing up for 5pm is easy – they offer a 14 day trial and there is no "wait for your email" to verify your account.  The signup and onboarding processes is very quick and painless, giving off a great first impression.
Like Projjex, 5pm delivers the familiar Project/Task view you're used to seeing in project management software.  5pm is easy on the eyes and features many pop-ups offering contextual how-tos and tips on usage.
There are tabs for projects, timelines (gantt charts), reports, and user (resource) profiles.  The right hand pane is a contextual menu that refreshes whenever you click an item on the left.  For example, if you click on a project name, the right hand pane will display details on that project, eliminating an extra click to retrieve this useful information.
5pm has built in some very useful features surrounding projects and tasks.  Each project has its own RSS feed and direct link.  The company has also built in iCalendar support for projects which gives you calendar integration with any calendar software the supports this format including Apple iCal, Google Calendar, Mozilla Sunbird, and others.  Projects can be grouped, given deadlines, and status.
Additionally, 5pm allows for client login with the ability to restrict rights for different audiences.  All items in your 5pm projects are searchable for easy access.  You can upload documents and files and attach them to tasks.  For report portability and customization, 5pm has made it possible to export reports to CSV.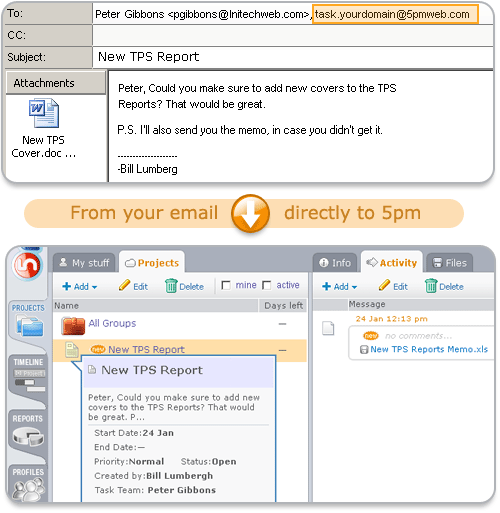 A feature that really stands out is their email integration.  Not only can you email from 5pm to a project member, but that person can update the progress of a task, simply by replying to the email address provided for the project.
5pm has many features that are found in various project management utilities and combines it with a fantastic look and feel.  The company should spend more time building a dashboard for project managers to get a pictorial way of tracking their projects.
Overall, the site is useful and worth potential users giving the 14-day trial a run through.  Their prices are a bit steep, especially considering competitor Projjex allows for unlimited users/clients on a project.
5pm's plans begin at $14/month that allots you 5 users, 10 open projects, and 150 Mb of file storage.  The most expensive plan is $84/month and gives you 40 uses and 80 open projects with a gig of storage space for files.