Shortly after I moved to Paris, the local and regional government launched a city-wide network of 260 free public wi-fi hotspots in libraries, parks and other public spaces like museums.
The museum part I don't get. The rare seating options in museums aren't ideal for working at a laptop even if you wanted to. They're designed to keep you from lingering too long. Besides, if your cell phone rings in a museum here, the little guy who stands around to make sure you're not slashing the Renoirs rushes over and stands in front of you till you turn your phone off. So it's not really practical to check your e-mail with your mobile device in a museum either.
But I still think providing such extensive wi-fi coverage in Paris, even if it's impractical, is a good start.
I am one of those people who can't stand the thought of working in a coffee shop. When I'm in a library I'm too self-conscious about how loudly I'm typing or sniffling or whatever. And the "no food or drink" thing doesn't work for me.
What I would love would be to work outdoors every now and then. Being from southern California, I really miss the sun sometimes. It would be nice to work in some of the lovely Parisian parks on sunny days. But they don't have the nifty covered picnic areas you have in the U.S. On the other hand, you've got the tables and shelters but I don't think there are a lot of parks outside of New York City that have wi-fi. Am I right? I poked around on some of the sites Mike Gunderloy listed in 14 Ways to Find a Wi-Fi Signal but couldn't find any that would allow you to search for a specific kind of wi-fi location by keyword (I wanted to search by "park"). I saw lots of chains and hotels and the odd RV park…
The public wi-fi service here is government funded (with taxpayer money), while in the States, it's private companies that tend to offer wi-fi. And they're not doing a very good job of it, evidently. An article I read on Mashable recently stated that "most high-profile network-building efforts across the US have stalled with no indication or any sign of real progress to be made."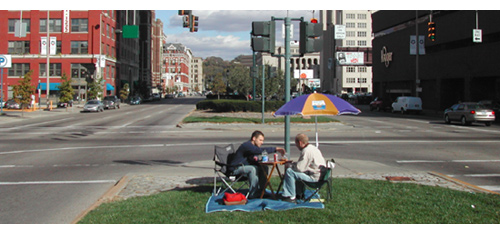 Having public wi-fi in places where web workers could actually work would be a huge improvement in our quality of life. Once there's wi-fi in all public parks, we'll need ergonomically designed seats and tables under solar-powered shelters (they do it for bus shelters) that provide electricity for outlets so we can get some fresh air while we work. It'll happen. In the meantime, some other innovative options are becoming available.
A Dutch organization, the Spare Space Foundation, offers pop-up workstations that they set up in vacant buildings. That idea needs to catch on elsewhere. Also, according to trendwatching.com, there's an increase in "work-centered BEING SPACES" like New York's Paragraph and The Village Quill, very cushy members-only co-working centers that cater to writers. Alex Johnson left a comment on a previous post of mine saying that Shedworking was the next big thing. Great idea if you have a nice back yard!
As a teenager, I didn't hesitate to lug a cooler, lawn chair, boombox, bag of snacks, water, sunscreen, magazine—you get the picture—to the beach. These days, I would gladly carry a personal pop-up workstation, a picnic lunch, and my laptop to the park. Wouldn't you?
Know anybody who's looking for a business idea?
University of Cincinnati